Fact Check: Viral message stating baking soda cures cancer is fake
Viral claim stating baking soda cures cancer is fake. The doctors whom the viral message is attributed to, too denied the claim. Baking soda only reverses the acidity; studies about the same in cancer patients is underway.
By

Vishvas News

Updated: July 29, 2022
Vishvas News (New Delhi): Vishvas News came across a message being widely shared in Hindi on various social media platforms that stated that after years of research scientists have concluded that baking soda used in the kitchen cures cancer. However, Vishvas News found the viral message to be false. The doctors to whom the message is attributed, too said that the viral message is fake.

Claim:
Facebook user BR Shahu posted a long message on his Facebook profile which was also shared on Vishvas News WhatsApp chatbot +91 9599299372. The message was as follows:
वैज्ञानिकों ने ढूंढ निकाला कैंसर का सबसे सस्ता इलाज 2 ₹ की बेकिंग सोडा जड़ से खत्म कर देगी कैंसरखानें वाले सोडे से कैंसर ख़त्मNew Delhi : कैंसर के मरीजों के लिए एक बड़ी राहत वाली खबर!दुनियांभर के वैज्ञानिक जिस बीमारी के लिए सालों से इलाज ढूंढ रहे थे!उसका आखिरकार तोड़ मिल चुका हैं!दुनियां भर में कैंसर के इलाज अरबों रुपए पानी की तरह बहा दिए गए हैं!कोई भी दवा पूरी तरह से कैंसर को जड़ से खत्म करने में नाकाम साबितअमेरिका के लडविंग इंस्टीट्यूट फॉर कैंसर रिसर्च में अमेरिकी वैज्ञानिकों के दल ने हाल ही में कुछ नए शोध किए!इस टीम की अगुवाई मशहूर कैंसर वैज्ञानिकजॉन हॉप्किंग यूनिवर्सिटी के ऑनकोलॉजिस्ट कैंसर विशेषज्ञ डॉ. ची वान डैंग ने कीउन्होंने कहाँ कि हम सालों तक रिसर्च कर चुके हैं!अब तक कैंसर के जो भी इलाज मौजूद हैं वो काफी महंगे हैं!हमने जो शोध किया उसमें चौंकाने वाले नतीजे सामने आए हैं!आपके किचन में रखा बेकिंग सोड़ा कैंसर के लिए रामबाण औषधि हैं!डॉ. डैंग ने बेकिंग सोडा पर लंबी रिसर्च की और जो परिणाम हमने अब तक सिर्फ सुने थे वो प्रमाणित हो गए!बताये कि कैंसर का मरीज बेकिंग सोडा पानी के साथ मिलाकर पी ले तो कुछ ही दिनों में इसका असर दिखने लगेगा!उन्होंने बताया कि कीमोथेरेपी और महंगी दवाओं से भी तेजी से बेकिंग सोडा ट्यूमर सेल्स को न सिर्फ बढ़ने से रोकता हैं!बल्कि उसे खत्म भी कर देता हैं!डॉ. डैंग ने पूरी जानकारी देते हुए बताया कि हमारे शरीर में हर सेकेंड लाखों सेल्स खत्म होते हैं!और नए सेल्स उनकी जगह ले लेते हैं!लेकिन कई बार नए सेल्स के अंदर खून का संचार रुक जाता हैं!और ऐसे ही सेल्स एक साथ इकट्ठा हो जाते हैं!जो धीरे-धीरे बढ़ता हैं!इसी को ट्यूमर कहाँ जाता हैं!उन्होंने बताया कि हमने ब्रेस्ट और कोलोन कैंसर के ट्यूमर सेल्स पर बेकिंग सोडा के प्रभाव की जांच की और हमने पाया किबेकिंग सोडा वाला पानी पीने के बाद जो ट्यूमर सेल्स बढ़ रहे तो वो काफी हद तक रुक गए!उन्होंने बताया ट्यूमर सेल्स में आक्सिजन पूरी तरह खत्म हो जाती हैं!तो उसे मेडिकल भाषा में हिपोक्सिया कहते हैं!हिपोक्सिया की वजह से तेजी से उस हिस्से का पीएच लेवल गिरने लगता हैं!और ट्यूमर के ये सेल एसिड बनाने लगते हैं!इस एसिड की वजह से पूरे शरीर में भयंकर दर्द शुरू हो जाता हैं!अगर इन सेल्स का तुरंत इलाज न किया जाए तो ये कैंसर सेल्स में तब्दील हो जाते हैं!डॉ. डैंग के मुताबिक बेकिंग सोडा मिला पानी पीने से शरीर का पीएच लेवल भी मेंटेन रहता हैं!और एसिड वाली समस्या न के बराबर होती हैं!डॉ. डैंग ने बताया कि कई बार कीमोथेरेपी के बावजूद भी ऐसे कैंसर सेल्स शरीर में रह जाते हैं!जो बाद में दोबारा से शरीर में कैंसर सेल्स बनाने लगते हैं!इन्हें T सेल्स कहते हैं!इन टी सेल्स को नाकाम सिर्फ बेकिंग सोडा से ही किया जा सकता हैं!डॉ. वॉन डैंग ने कहाँ बेकिंग सोडा कैंसर समेत कई बीमारियों का इलाज हैं!अब हम प्रमाणिक तौर पर कह सकते हैं किकैंसर का सबसे सस्ता और अच्छा इलाज बेकिंग सोडा से मिला पानी हैं!उन्होंने बताया कि जिन लोगों पर हमने प्रयोग किएउन्हें दो हफ्तों पर पानी में बेकिंग सोडा मिलाकर दियाऔर सिर्फ 2 हफ्ते में उन लोगों के ट्यूमर सेल्स लगभग खत्म हो गए !टाटा मेमोरियल हॉस्पिटल के डॉ. राजेन्द्र ए. बडवे ने जोर देकर कहाँ कि यदिहर कोई इस समाचार पत्र को प्राप्त करदूसरों को अग्रेषित कर सकता हैं!तो निश्चित रूप से हज़ारों जीवन की रक्षा कर उन्हें बचा सकते हैं!जय श्री राम जय हिंद जय भारतकहकरआप सभी माननीय श्रीमान्मेरा सादर प्रणाम स्वीकार करें!

Translation: Scientists have found the cheapest treatment for cancer, baking soda of ₹ 2 will eliminate cancer from the root Eating soda cures cancer New Delhi: A big relief news for cancer patients!The disease for which scientists around the world were looking for a cure for years!He's finally got his break!Billions of rupees have been shed like water for cancer treatment around the world!No medicine has proved to be incapable of completely eradicating cancer.A team of American scientists at the Ludwing Institute for Cancer Research in the US recently did some new research!This team is led by a famous cancer scientist.Oncologist Dr. Chi Van Dang of John Hopkins University where did they do that we've researched for years!All the cancer treatments available till now are very expensive!The research we did has yielded astonishing results!The baking soda kept in your kitchen is a panacea for cancer!Dr. Dang did a long research on baking soda and the results we've only heard so far are proven!Tell that if a cancer patient drinks baking soda mixed with water, then its effect will be visible in a few days!He told that faster than chemotherapy and expensive drugs, baking soda not only stops tumor cells from growing!But it ends it too!Giving complete information, Dr. Dang said that millions of cells end in our body every second!And new cells take their place!But sometimes the circulation of blood inside the new cells stops.And that's how the cells get lumped together!that grows slowly!That's where tumors go!He told that we investigated the effect of baking soda on tumor cells of breast and colon cancer and we found that After drinking water with baking soda, the tumor cells that grew, they stopped to a great extent!He told that the oxygen in the tumor cells is completely destroyed!So it is called hypoxia in medical language.Due to hypoxia, the pH level of that part starts falling rapidly.And these tumor cells start making acids!Due to this acid, severe pain starts in the whole body.If these cells are not treated immediately, they turn into cancer cells.According to Dr. Dang, the pH level of the body is also maintained by drinking water mixed with baking soda!And acid problems are negligible!Dr. Dang told that many times such cancer cells remain in the body even after chemotherapy!Which later again start making cancer cells in the body!These are called T cells!These tea cells can be thwarted only with baking soda!Dr. Von Dang where baking soda is a cure for many diseases including cancer!Now we can say for sure that The cheapest and best cure for cancer is water mixed with baking soda!He told that the people we used onGave them baking soda mixed with water for two weeks And in just 2 weeks, the tumor cells of those people were almost gone!Dr. Rajendra A. Badwe of Tata Memorial Hospital insisted that ifeveryone get this newsletterCan forward to others!So surely saving thousands of lives can save them!Jai Shri Ram Jai Hind Jai Bharat by saying all of you honorable sir Please accept my best regards!
Check the post and its archive version here.
Investigation:
Vishvas News first read the message carefully and started with Google Keyword search to check whether really a cure for cancer has been found and that too in the form of baking soda. 
We found various studies on the internet. One article mentioned: Since baking soda can neutralize acid, the researchers believe drinking it could reduce a tumor's acidity and bring dormant cells back to life, making them easier targets for chemotherapy.
Some other studies too mentioned the same. 
However, nowhere was it mentioned that baking soda is a perfect cure for cancer.
The viral message was attributed to two people. One was Dr. Chi Van Dang who is a renowned oncologist. Vishvas News reached out to Dr. Chi Dang via email and shared the viral message with him. Dr. Dang in response said, "This is unfortunately incorrect. We never claimed that baking soda 'cures' cancer."
In the next step of the investigation, we reached out to the office of Dr. Rajendra Badwe, Surgical Oncologist at Tata Memorial Center. The message was also attributed to him saying that Dr. Rajendra Badwe too has supported the claim. Vishvas News reached out to Dr. Badwe's office where his secretary talked to us. He too stressed that Dr. Badwe has not made any such statement, nor supports the claim that baking soda cures cancer. 
In the next step, Vishvas News reached out to Dr. Manish Kumar, Sr Consultant Medical Oncologist, American Oncology Institute, Gurugram. On the claim, he said, "Tumor cells are known to have hypoxia (area of low oxygen) which leads to Lactic acidosis. These cells form part of the entire tumor load which is difficult to target with conventional Chemo. It has been an area of research for a long time how to target these dormant areas. The reversal of lactic acidosis is not easy. The only reliable way is to increase the oxygenation of that area. The study by Ludwig Cancer Research has used a novel mechanism to reverse the acidity by using baking soda. It is an interesting thought; however, it is very early to accept these strategies based on the preliminary data from an isolated study. It is a welcome approach and larger studies are required to test this hypothesis in the management of cancer, where every day some new research is coming to light. Any inputs can't be ignored & should be followed up." 

It was hence clear that the viral claim stating that baking soda cures cancer is fake. It only reverses the acidity.
In the last step of the investigation, Vishvas News did a background search of the Facebook user who shared the viral claim. BR Shahu is a resident of Mumbai and has 4.5K friends on Facebook.
Conclusion: Viral claim stating baking soda cures cancer is fake. The doctors whom the viral message is attributed to, too denied the claim. Baking soda only reverses the acidity; studies about the same in cancer patients is underway.
Claim Review :

Baking soda cures cancer

Claimed By :

BR Shahu

Fact Check :

False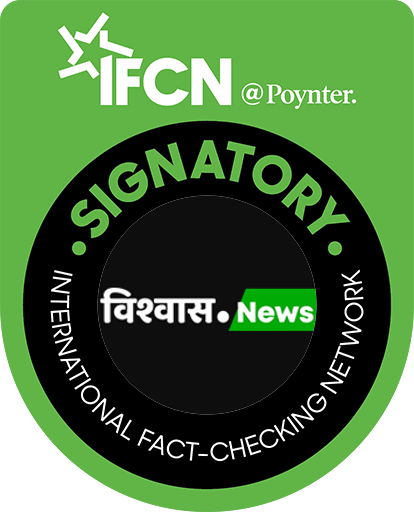 Know the truth! If you have any doubts about any information or a rumor, do let us know!
Knowing the truth is your right. If you feel any information is doubtful and it can impact the society or nation, send it to us by any of the sources mentioned below.
Tags
Next Article