Fact Check: Nobel laureate Luc Montagnier did not say this about COVID-19 vaccine, viral post is fake
By

Vishvas News

Updated: May 28, 2021
New Delhi (Vishvas News). A statement about COVID-19 vaccination, attributed to French virologist and Nobel laureate Luc Montagnier, is viral on social media. The post is claiming that in an interview translated and published by Rare Foundation USA, Montagnier stated that all those who have been vaccinated for Covid-19, will die within two years. A news link and Luc Montagnier's Wikipedia link are also attached with the viral post. Vishvas News also investigated the claims made in the interview of Luke Montagnier. He claimed, 'new variants of the corona have come from the vaccine' and 'it is antibodies made by the virus that make the infection stronger'. Vishvas News found in its investigation that all these claims are baseless.
Nobel laureate Luc Montagnier did not say that those taking vaccine jabs will die within two years, nor does this claim hold true. We did not even find this statement in the news of lifesitenews.com which has been linked with the viral post. Apart from this, the claims made in the interview by Luc Montagnier are also baseless. Antibodies of the body can cause the virus to change its appearance, but antibodies in the body are not made only by the vaccine. The WHO has also denied the viral claim as false.
What is a viral post?
Many users are sharing this post on social media platforms. One of those users, Subrata Chatterjee, shared the same post, which read: "All Vaccinated people will die within 2 years: Nobel Prize Winner Luc Montagnier has confirmed that there is no chance of survival for people who have received any form of the vaccine. In the shocking interview, the world's top virologist stated blankly: there is no hope, and no possible treatment for those who have been vaccinated already. We must be prepared to incinerate the bodies. The scientific genius backed claims of other pre eminent virologists after studying the constituents of the vaccine. They will all die from antibody dependent enhancement. Nothing more can be said," says the message. It's an enormous mistake, isn't it? A scientific error as well as a medical error. It is an unacceptable mistake," Montagnier said in an interview translated and published by the RAIR Foundation USA yesterday. "The history books will show that, because it is the vaccination that is creating the variants. Many epidemiologists know it and are "silent" about the problem known as "antibody-dependent enhancement," Montagnier said."
See the archive version of the post here.
Investigation
Vishvas News investigated this post in two parts. The first part explores the viral post, quoting Nobel Prize Winner Luc Montagnier, claiming that everyone who gets the vaccine will die within two years. At the same time, in the second part of the investigation, we have examined part of that interview of Luc Montagnier, which is now going viral.
Claim 1
There is a link of lifesitenews.com with the post and the post reads that Luc Montagnier said in his interview, 'Those who have got vaccinated have no hope of survival, those who get the vaccine will be dead within two years."
Fact

A part of Luc Montagnier's interview in French language was translated by the Rare Foundation of USA. The article was published on 18 May 2021. This claim is being made on the basis of this interview, but we did not find any statement like viral claim in the entire interview. In the interview, Montagnier had said, 'The vaccine is producing variants and because of this, there have been more deaths in countries where the vaccine has been introduced.' This statement has been fudged. You can read the entire article of the Rare Foundation here.
A news link of lifesitenews.com's story is given along with the viral post. However, we did not find a viral statement like 'death within two years' here too. On May 25, 2021, the Rare Foundation, while publishing the article, refuted the claim and confirmed that Nobel laureate Montagnier has not said anything about death within 2 years.
Vishvas News contacted the Founder of the Rare Foundation, Amy Meck, via Twitter for confirmation. We were told that the statement viral in the name of Luc Montagnier is fake. They also shared with us the rebuttal issued by Rare Foundation in the form on Tweet and article.
World Health Organisation, taking cognizance of this, said that this is absolutely wrong and is not based on any current scientific evidence. The vaccine has saved millions of lives by preventing against more than 25 diseases.
Claim 2
In the second part of the investigation, we investigated the claims made in the interview by Luc Montagnier. He first claimed, "The new variants of Corona have come because of the vaccine and these variants are resistant to the vaccine".
Fact

The first vaccine was introduced in India on 16 January 2021, while according to the information on the website of the Ministry of Biotechnology, the first case of B.1.617 of this virus mutated in India was registered on 7 December 2020 in Maharashtra.
We contacted virologist Dr. Shahid Jameel, director of Ashoka University, Trivedi School of Bioscience, to confirm this claim. He told us that he has written an article for thewire.in on this interview of Luc Montagnier and all the information can be obtained from there.
This article, published on 27 May 2021, clearly states, Mutations in all organisms, including viruses, are random. When viruses multiply, their genetic material is also copied by enzymes that make errors, just like we make spelling errors while writing. While we can go back, proofread and correct our errors, viruses are unable because their enzymes cannot proofread or make corrections. This is especially true for RNA viruses like coronaviruses, influenza viruses, etc. So mutations accumulate with every round of replication." The full article can be read here.
Claim 3
"These antibodies are made by the virus, which make the infection strong." The ADE vaccine will cause more strong infections by variants in those who are vaccinated."
Fact
Dr. Gagandeep Kang, an Indian virologist and member of the National Technical Advisory Group on Immunization, wrote in a tweet related to Montagnier's claims, "When we are infected or vaccinated, we make antibodies in response to the whole virus or part of the virus. In viral infections, the body's immune responses, including antibodies, shut down viral replication and we recover from the infection. Some people are special, because they are immunocompromised (those who have a weak immunity and are more likely to spread the virus through them). It is possible that virus replication may occur over a long period of time. In such (rare) cases, it may be possible to develop variants of the virus that survive immune response. The variants are many, but the variants that avoid immunity are few. As the virus spreads across the population and multiplies extensively, certain types that are more capable of avoiding vaccine-induced immunity will make vaccines somewhat less effective. The only way to reduce variants is not to stop vaccination, but to increase it to prevent the circulation and replication of the virus."
Pratyush Ranjan, Senior Editor, Jagran New Media, spoke to ICMR's Dr. Arun Sharma on the claims made by Luc Montagnier. Dr. Arun Sharma is the director of ICMR's National Institute for Implementation Research on Non-Communicable Diseases (Jodhpur). He is also a community medicine expert. Dr. Sharma gave this answer on the claim made in the viral post.
Question: Vaccine is making the new variants. New types of variants are formed due to the vaccine.
Answer: This is a baseless claim. There is no scientific evidence to support this claim.
Question: Viruses can form variants, which can be vaccine resistant.
Answer: It is possible and the virus makes its variant. However, it is not correct to say that this is due to vaccine or vaccination.
Question: These are antibodies produced by the virus / vaccine which increases the infection. If we talk about Covid-19 vaccine then how right is it?
Answer: This is an absolutely unfounded claim, and it has not yet been seen in the case of the Covid-19 vaccination. Vaccination is the most important step to fight Covid-19 and its variants and to protect yourself. All should go for vaccination without hesitation and complete both the doses as required and keep following all the guidelines of Covid even after the vaccination process is completed.
You can watch an exclusive interview of Dr. Arun Sharma with Pratyush Ranjan on Covid-19 here.
In the next phase of the investigation we did a news search to get more information and we found an article published on medpagetoday's website on 16 March 2021. Citing information written in Derek Lowe, PhD Holder's Science Translational Medicine blog "In the Pipeline", "From the early stages of COVID-19 vaccine development, scientists sought to target a SARS-CoV-2 protein that was least likely to cause ADE. For example, when they found out that targeting the nucleoprotein of SARS-CoV-2 might cause ADE, they quickly abandoned that approach."
"Scientists designed animal studies to look for ADE. They looked for it in human trials, and they've been looking for it in the real-world data for COVID-19 vaccines with emergency use authorization. So far, they haven't seen signs of it. In fact, the opposite is happening." Read the entire article here.
Luc Montagnier received the Nobel Prize in Physiology or Medicine for the discovery of Human Immunodeficiency Virus (HIV) in 2008 along with Françoise Barré-Sinoussi and Harald Zur Hausen. Montagnier is often caught in controversies. In April 2020, he said that the corona virus has been prepared in China's Wuhan lab. Read the news here.
Conclusion: Vishvas News found in its investigation that Nobel laureate Luc Montagnier did not say that those who got the COVID-19 vaccination would die within two years and neither this claim is true. The claims made by Nobel laureate Luc Montagnier in his interview that 'new variants of the corona are due to the vaccine' and 'it is antibodies made by the virus that make the infection stronger' are also wrong. Covid-19 Vaccines do not cause mutations or variants of the virus.
Claim Review :

All Vaccinated People Will die within 2 Years.

Claimed By :

Raima Joy Piang Bandala

Fact Check :

False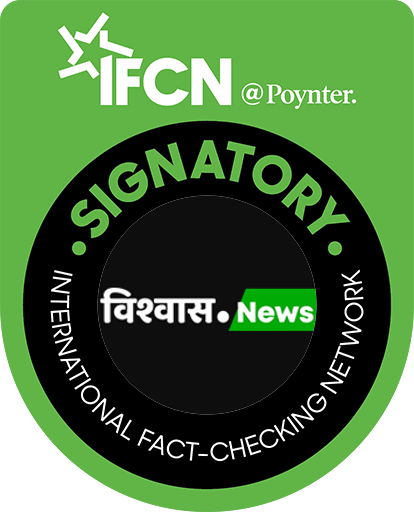 Know the truth! If you have any doubts about any information or a rumor, do let us know!
Knowing the truth is your right. If you feel any information is doubtful and it can impact the society or nation, send it to us by any of the sources mentioned below.
Tags