Fact-check: Camphor, clove, ajwain and eucalyptus oil do not increase oxygen levels, viral claim is fake
By

Vishvas News

Updated: April 21, 2021
Vishvas News (New Delhi): Vishvas News recently came across a claim which was widely being shared on various social networking websites in Marathi and English. The claim stated that making a bag (potli) that consists of camphor, clove, ajwain and eucalyptus oil is helpful in increasing the oxygen levels. The message also claimed that many ambulances too are keeping it.
Vishvas News in its investigation found the claim to be false. The potli does not increase oxygen levels.
Claim:
Facebook user Bharat Pawale shared a video on Facebook and wrote in Marathi, "कापूर लवंग ओवा काही थेंब निलगिरी चे तेल.दिवस रात्र पोटली बनवून वास घ्या.ऑक्सिजन ची पातळी वाढण्यास मदत होते.ऑक्सिजन ची पातळी कमी असते तेंव्हा लढाख मधील पर्यटकांना ही पोठली दिली जाते.बऱ्याच रुग्णवाहिका आता ह्या गोष्टी देखील ठेवत आहेत.हा एक घरगुती उपचार आहे.सर्वांना पाठवा."
Translation: Make a small bag of camphor, clove, ajwain and a few drops of Eucalyptus oil and smell it everyday. It helps to increase oxygen level. When oxygen level is low, it is used by tourists in Ladakh. Many ambulances are now keeping these too. Please share with all.
Check the post and its archive version here.
The claim is also shared by Union Minister of minority affairs, Mukhtar Abbas Naqvi on Facebook.
Check the post and its archive version here.
Investigation:
Vishvas News started with searching for research papers for the claim.
It first started its research on camphor.
According to CDC exposure to 2-Camphonone, Gum camphor, Laurel camphor, Synthetic camphor can cause irritation eyes, skin, mucous membrane; nausea, vomiting, diarrhea; headache, dizziness, excitement, epileptiform convulsions.
Read the study here.
Vishvas News also found a study on 'Pediatrics Official Journal of the American Academy of Pediatrics' titled Vapor Rub, Petrolatum, and No Treatment for Children With Nocturnal Cough and Cold Symptoms.
The study mentioned: A vapor rub combination of camphor, menthol, and eucalyptus oils provided nocturnal symptom relief for children with cold symptoms. Children treated with vapor rub had improved sleep, as did their parents, when compared with children given placebo or no treatment.
Read the study here.
Clove was claimed to be helpful using a research paper titled, "Molecular Basis of the Therapeutical Potential of Clove ( Syzygium aromaticum L.) and Clues to Its Anti-COVID-19 Utility"
The abstract of the paper said: Clove (Syzygium aromaticum L.) is a well-known culinary spice that has been used for centuries in folk medicine in many disorders. Interestingly, traditional medicines have used clove since ancient times to treat respiratory ailments, whilst clove ingredients show antiviral and anti-inflammatory properties. Other interesting features are the clove antithrombotic, immunostimulatory, and antibacterial effects. Thus, in this review, we discuss the potential role of clove in the frame of anti-COVID-19 therapy, focusing on the antiviral, anti-inflammatory, and antithrombotic effects of clove and its molecular constituents described in the scientific literature.
Read it here.

We did not find any research papers for Ajwain (carom seeds) and eucalyptus oil.
To check the claim further we interacted with Nagpur's pulmonologist, Dr Vivek Gupta who is also treating Covid patients. Talking to Vishvas News Dr Gupta said that there is no scientific basis to the above claim. The message being widely shared is false and if people observe a drop in their oxygen levels they must immediately contact a doctor.
Vishvas News also interacted with Ayurveda practitioner Dr Lalit Jain. He informed that there are no studies and research in Ayurveda that suggests these components increase the oxygen levels. However, these ingredients help in decreasing the cough formed in the body.
Vishvas News too suggests that the best solution is to keep an oximeter and approach medical professionals to avoid the debilitating side effects of ignoring the decrease in oxygen levels.
We also did a social background check on the Facebook User that shared the viral claim. We found that Bharat Pawale is a resident of Panvel, Navi Mumbai. He made his Facebook profile in May 2010. He is followed by 294 people.
Conclusion: The viral claim stating Camphor, clove, ajwain and eucalyptus oil increase oxygen levels is fake. Experts say there is no scientific basis to the claim.
Claim Review :

Camphor, clove, ajwain and eucalyptus oil increases oxygen level

Claimed By :

Bharat Palawe

Fact Check :

False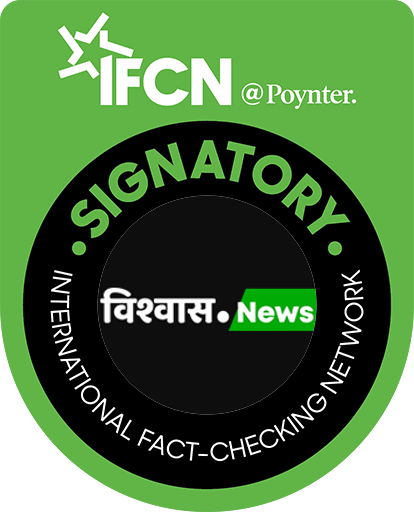 Know the truth! If you have any doubts about any information or a rumor, do let us know!
Knowing the truth is your right. If you feel any information is doubtful and it can impact the society or nation, send it to us by any of the sources mentioned below.
Tags