Fact Check: This Is Not The Cover Page Of National Geographic Magazine, viral claim is fake
By

Vishvas News

Updated: January 17, 2021
New Delhi (Vishvas News). A picture, allegedly the cover page of National Geographic magazine is viral on social media with a claim that it is from the ongoing farmers movement in New Delhi borders.
We received this picture for Fact Check on its Fact Checking WhatsApp chatbot (+91 95992 99372). Vishvas News investigation revealed the claim is fake. The photo has been created by editing tools and viral with fake claims.
Claim
Social media users are sharing a picture alleging it to be the cover page of National Geographic magazine. A twitter user posted the image writing, "The dock media will never show you this."
The archived version of the tweet can be seen here .
Investigation
Vishvas News first observed the viral picture shared as the cover page of the National Geographic magazine. We tried to find this cover page on the official website of National Geographic Magazine. While we could not find this cover page, we identified huge difference in the logo, font, stylesheet between the original magazine and the viral picture. None of the last four issues of the magazine had mentioned about the recent peasant movement in India.
We searched for the viral photo on the Internet using Google reverse image search tool. We found this picture on Outlook and thequint.com with credits to PTI photojournalist Ravi Chaudhary. Quint's report stated that this picture of the farmer was taken on 12 December on the Singhu border.
We also noted the viral picture has been credited to @anoopreet. We searched on the Internet and found her Instagram handle. We found this picture in one of her Instagram posts, where she has clarified that it was an imagined cover for artistic expression.
We also found this picture on Ravi Chaudhary's official Instagram page.
Vishvas News contacted anoopreet via his Instagram for verifcation. Pointing out to her explanation in the Instagram post, she clarified that this fictional picture was designed for creativity and artistic expression.
We also contacted National Geographic via mail for confirmation. National Geographic also clarified that the viral claim is fake and they did not create any such cover page.
Social scanning of the Twitter user Rana Chahal who shared the viral post revealed that the profile created in March 2019, has 29 followers and the user is from Bathinda, Punjab.
Conclusion: The viral post is fake. This is not the cover page of National Geographic magazine
Claim Review :

Social media users are sharing a picture alleging it to be the cover page of National Geographic magazine.

Claimed By :

Twitter user

Fact Check :

False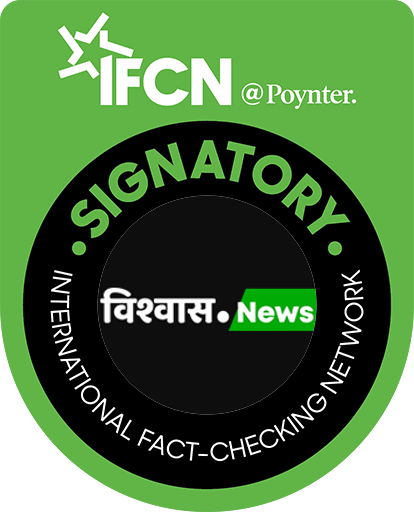 Know the truth! If you have any doubts about any information or a rumor, do let us know!
Knowing the truth is your right. If you feel any information is doubtful and it can impact the society or nation, send it to us by any of the sources mentioned below.