Fact Check: Clipped video of Arvind Kejriwal viral with false claim
Vishvas News in its investigation found that this claim is misleading. Actually, this video has been clipped. This clip is taken from a press conference. In this, Arvind Kejriwal was taking a dig at economists "for writing articles criticizing giving free things, but they are not writing a single article condemning corruption in the country."
By

Vishvas News

Updated: May 11, 2022
New Delhi (Vishvas Team). A video is going viral on many social media platforms including Facebook, in which Delhi Chief Minister Arvind Kejriwal is saying that the corruption of the Aam Aadmi Party (AAP) should continue. Many people are sharing the post and taunting Kejriwal and Aam Aadmi Party. Vishvas News in its investigation found that this claim is misleading. Actually, this video has been clipped. This clip is taken from a press conference. In this, Arvind Kejriwal was taking a dig at economists "for writing articles criticizing giving free things, but they are not writing a single article condemning corruption in the country."
What's going viral?
With the viral video it is being claimed that Delhi Chief Minister Arvind Kejriwal said that the corruption of the Aam Aadmi Party (AAP) should continue. The description accompanying the post reads "AAP corruption must go on!!"
The archived version of this post can be seen here.
Investigation
To verify the claim, we searched the keyframes of this video on Google reverse image with the keywords 'economist, corruption'. We found the longer version of this video in a tweet on May 8, 2022, on the verified Twitter handle of AAP. Along with it was written translated: "Nowadays big economists are writing that the country will be ruined if freebies continue. Not a single economist has written that the country will be ruined if "corruption" continues."
In this one-minute 45-second video, Kejriwal says "Do you know, every politician gets four thousand units of electricity free of cost. If you get four thousand units of electricity every month then you have no problem with it, but if someone poor gets 200 units of free electricity, then every politician starts shouting freebies, freebies. Politicians get free medical, and go to America for treatment but if the poor get free medicines in a government hospital then they call it free Nowadays, I see big economists writing articles in the newspapers about freebies – if the culture of freebies continues, the country will be doomed. I haven't seen a single economist writing an article that if corruption continues If left, the country will be ruined. Corruption should continue."
Arvind Kejriwal's full speech was also uploaded on Aam Aadmi Party's official YouTube channel on May 8, 2021.
We spoke to Aam Aadmi Party spokesperson Saurabh Bhardwaj on this matter. He said this video is clipped and posted with misleading context.
Many people are sharing this post on social media. One of these is the Facebook page called India272+. The page has 2.8 million followers.
Conclusion: Vishvas News in its investigation found that this claim is misleading. Actually, this video has been clipped. This clip is taken from a press conference. In this, Arvind Kejriwal was taking a dig at economists "for writing articles criticizing giving free things, but they are not writing a single article condemning corruption in the country."
Claim Review :

AAP का भ्रष्टाचार चलते रहना चाहिए !

Claimed By :

India272+

Fact Check :

Misleading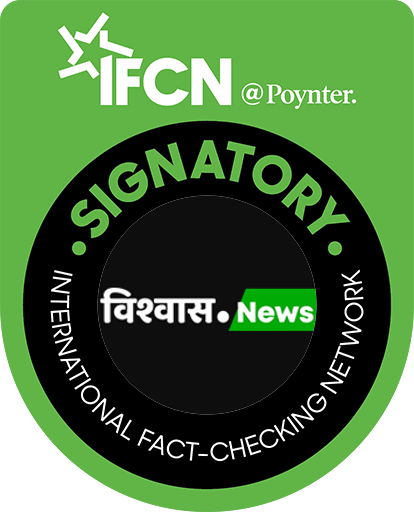 Know the truth! If you have any doubts about any information or a rumor, do let us know!
Knowing the truth is your right. If you feel any information is doubtful and it can impact the society or nation, send it to us by any of the sources mentioned below.
Tags
Next Article