Fact Check: This picture of Priyanka Vadra and Rahul Gandhi is edited; The booklet they were holding had Youth Manifesto written on it
In the investigation of Vishvas News, this claim turned out to be false propaganda. The picture going viral is edited.
By

Vishvas News

Updated: January 25, 2022
New Delhi (Vishvas News). A picture is going viral on social media in which Priyanka Vadra and Rahul Gandhi have a book in their hands with the words "Aanege to Yogi hi" written on it, indicating that they have accepted that Yogi Adityanath will return as the CM of UP. In the investigation of Vishwas News, this claim proved to be a fake propaganda. The picture going viral is edited.
What is Viral?
Instagram user user 'yogi_adityanath2022' has shared the viral picture.
Several other users on social media have shared the video with similar claims.
Investigation
On Google reverse image search, we found this image in a news published on the website of www.jagran.com that was published on 21 January 2022. But in this picture, the booklet had something else written on it. The cover of the booklet read "भर्ती विधान युवा घोषणा पत्र" which means Recruitment Youth Manifesto.
According to the news, "translated: The party's national general secretary Priyanka Gandhi Vadra, along with former Congress national president Rahul Gandhi, released the party's manifesto on Friday in the name of Recruitment Vidhan Yuva Manifesto. In this, the focus of the Congress is on eight points."
We got the same picture in news reports published on zeenews.india.com and jansatta.com. Even in the pictures present here, the booklet cover read "भर्ती विधान युवा घोषणा पत्र."
We also found this picture uploaded on the Verify Twitter handle of East Uttar Pradesh Congress Sevadal on 21 January 2022. Along with it was written, "This manifesto will provide a new direction to the youth of Uttar Pradesh."
The difference between the viral picture and the original one can be clearly seen in the collage below.
We contacted Congress's national secretary Pranav Jha in this regard. He said, "Of course, this is a morphed image from a function held at AICC Lawns on January 21st to Launch youth Manifesto of Uttar Pradesh Congress Committee. BJP is using it to mislead voters says much about their desperation and ethics. Thankfully people can identify the picture and the occasion therefore it is going to backfire and voters are not going to fall for it. BJP is anyway on its way out."
The Instagram page that shared the viral edited image with a false claim is followed by 15.1k users.
Conclusion: In the investigation of Vishvas News, this claim turned out to be false propaganda. The picture going viral is edited.
Claim Review :

लो अब तो पप्पू ने भी कह दिया..

Claimed By :

yogi_adityanath2022

Fact Check :

False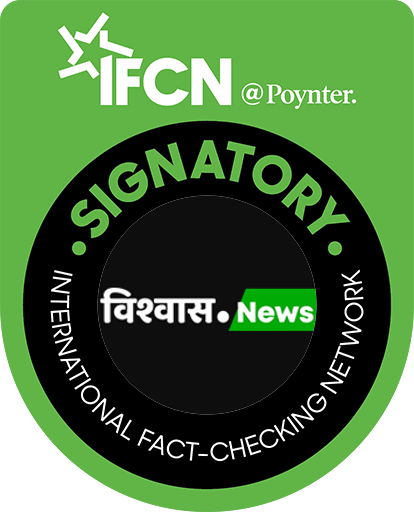 Know the truth! If you have any doubts about any information or a rumor, do let us know!
Knowing the truth is your right. If you feel any information is doubtful and it can impact the society or nation, send it to us by any of the sources mentioned below.
Tags
Next Article