Fact Check: Viral clip of AIUDF's Maulana Badaruddin Ajmal is morphed
Vishvas News found in its investigation that the viral video is morphed.
By

Vishvas News

Updated: March 12, 2021
Guwahati (Vishvas News) A doctored video of All India United Democratic Front (AIUDF) chief Badruddin Ajmal speaking at an election rally is doing rounds all over social media. In the viral clip, the AIUDF supremo can be seen saying that if AIUDF will come in power, they will turn India into an Islamic nation.
Vishvas news found in its investigation that the viral claim is false. The viral video is clipped.
What is the viral video?
This video clip is viral in many social media groups. This is a short clip of Badruddin Ajmal at an election rally where he can be seen saying, " The Mughals ruled over India for 800 years. We will make the country an Islamic Rashtra. UPA and Mahagatbandhan will form the government and my party AIUDF will be a part of it. There won't be even one Hindu person in the country. We will turn everyone Muslim." The video clip has caused great anguish and uproar among the people.
The archived link of the viral post can be seen here.
Investigation
To start our investigation, we first put this video on Invid Tool and extracted this viral clip's key frames. We further searched these key frames on google reverse Image and we found that the clip has been taken from a speech delivered by AIUDF chief Ajmal at an election rally in Barpeta during the Lok Sabha elections in 2019. We found this video on a youtube channel named SANIDUL VLOGS.
In the original speech, Badruddin Ajmal had said, "The Mughals ruled over India for 800 years, but they could never even dare to dream of making the country an Islamic one. If the Mughals had any intention in the 800 years of its rule that there would not be a single Hindu person in the entire country, everyone will be converted to Islam, did they do it? They did not even try. They could not dare. After that, the British ruled over the country for 200 years. They also could not dare to make India a Christian country. After independence, of the 70 years, the congress governed the country for 55 years. Congress leaders starting from Jawaharlal Nehru to Lal Bahadur Shashtri to Rajiv Gandhi to Manmohan Singh and Narasimha Rao, no one dreamt of making the country a Hindu Rashtra. Modi Ji, do not ever dream of this, your dream will be broken. This time, people do not vote for Modi Ji, BJP, RSS, Himanta Biswa Sarma, instead cast your vote to AIUDF so that Narendra Modi cannot become the Prime Minister when the ministry will be formed after Ramadan."
In addition, Vishvas News also checked Twitter. We found that the official page of AIUDF rubbished the viral claim and shared the original video in a tweet.
We spoke to Badaruddin Ajmal and he said, "This is a conspiracy to destroy my political career. This video is designed to destroy my image by editing an old video of mine."
The doctored speech was shared on Facebook by a user Sashank Chakraborty with a misleading caption. The user lives in Guwahati and made this profile in 2010.
Conclusion: Vishvas News found in its investigation that the viral video is morphed.
Claim Review :

See what the great coalition wants to do, now tell whom you want to bring in the government, who does not want to bring the jihadis or the nationalist government.

Claimed By :

Sanjit Pandit

Fact Check :

False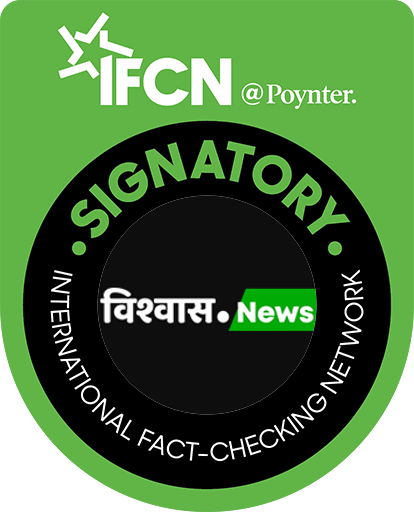 Know the truth! If you have any doubts about any information or a rumor, do let us know!
Knowing the truth is your right. If you feel any information is doubtful and it can impact the society or nation, send it to us by any of the sources mentioned below.
Tags
Read More
Next Article