In-Depth: Debunking COVID-19 Misinformation and Countering Coronavirus Vaccine Hesitancy
By

Vishvas News

Updated: April 7, 2021
New Delhi (Vishvas News): Amidst the highly contagious wave of COVID-19, India launched the massive coronavirus vaccination drive in January 2021.
The government continues to scale the nationwide inoculation drive in the nation administering more than 30 lakh Covid-19 vaccine jabs in a day. As on day 81 of the vaccination drive on 6 April, a total of 33,37,601 vaccine doses were given.
Debunking fake and misleading claims around COVID-19 and coronavirus-related misinformation
As India is witnessing a steep increase in the daily number of cases, so too does the volume of misinformation. A variety of false claims and misleading information is circulating across social media around coronavirus and vaccines. One such post claimed 40 students admitted after vaccination in Kanpur.
Vishvas News investigation revealed the claim to be fake. An old incident of students admitted after taking rubella vaccination in 2018 was going viral with the fake claim.
Another claim that went viral reported breaking out of violence in a hospital after the COVID-19 vaccination. Vishvas News investigated the post and found it to be fake. The photo showing violence in the hospital was old and unrelated to the COVID-19 vaccination.
The spread of fake news and misinformation on social media is considered to be one of the major causes of vaccine hesitancy, which is one of the major threats to global health. An example of such fake news debunked by Vishvas News is the post claiming that the nurse in the United States, who fainted after receiving her first dose of the Pfizer/BioNTech Covid-19 vaccine, is now dead. Vishvas News investigated and found the viral post to be fake. The nurse being referred to is alive. The hospital she works in released a video to show she's doing well.
Panel discussions around COVID-19 vaccination

Standing strong against novel coronavirus for over a year, India is now undergoing what has been touted as the world's largest vaccination drive. Bringing answers to all queries related to the Coronavirus vaccine, Jagran New Media's Pratyush Ranjan and Abhinav Gupta held an in-depth panel discussion with Dr. Naveen Thacker and Dr. Virendra Kumar Mittal under the organization's initiative Jagran Dialogues – Strengthening India on Feb 22, 2021.
COVID-19 vaccine is the need of the hour and to get a better understanding of the coronavirus vaccination, we had another detailed discussion with our experts on Jagran Dialogues. Jagran New Media's Urvashi Kapoor and Sanyukta Baijal held a comprehensive discussion on the same with Dr. Kanupriya Singhal, Health Specialist, UNICEF and Dr. Nikhil Modi, Sr Consultant, Respiratory and Pulmonary Care, Apollo Hospitals on March 23, 2021.
What causes a virus to change to a new variant?

According to World Health Organization (WHO), when a virus is widely circulating in a population and causing many infections, the likelihood of the virus mutating increases. The more opportunities a virus has to spread, the more it replicates – and the more opportunities it has to undergo changes.
COVID-19 vaccines status in India

The Central Drugs Standard Control Organization (CDSCO) has granted two vaccines for emergency use authorization in India. These are Covishield® (AstraZeneca's vaccine manufactured by Serum Institute of India) and Covaxin® (manufactured by Bharat Biotech Limited).
Scheduled dose of both the vaccines
The time interval between two doses of the Covishield vaccine has been extended from four-six weeks to four-eight weeks. The second dose of Covaxin can be taken four to six weeks after the first.
Is there a choice of vaccine that can be received?

The vaccine will be supplied to various parts of India as per availability and distribution plan, beneficiaries load. At present, the option of choice of vaccine is not available.
Do we need to use the mask or follow other COVID-19 appropriate precautions after receiving the vaccine?
Yes, it is absolutely necessary that everyone who has received the COVID-19 vaccine should continue to follow the COVID-19 appropriate behavior.
In how many days after the vaccination, adequate immune response and protection will be attained?
Adequate immune response takes 2-3 weeks after completion of the entire vaccination schedule i.e., after the second dose of COVISHIELD® and COVAXIN®.
Vaccine hesitancy is a severe threat to global health, according to the World Health Organisation (WHO). There is a spread a lot of anti-vaccination misinformation across social media. However, if we fact-check every post we see on social media before forwarding/sharing it, we could minimize the havoc created out of the surge of misinformation.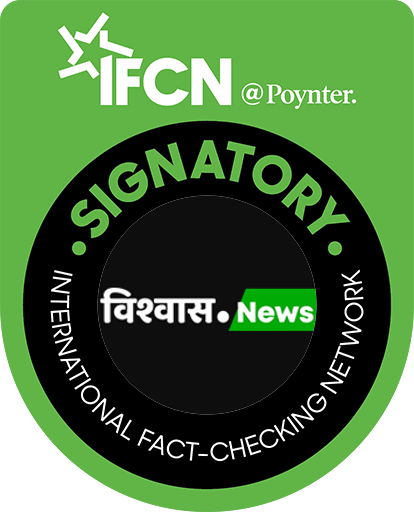 Know the truth! If you have any doubts about any information or a rumor, do let us know!
Knowing the truth is your right. If you feel any information is doubtful and it can impact the society or nation, send it to us by any of the sources mentioned below.
Tags
Read More
Next Article