Anchoring a Fact Checking Fellowship for 10 major news organisations, international grants and media literacy for the masses; 2022 was an incredible year for us
By

Vishvas News

Updated: January 3, 2023
New Delhi (Vishvas News): Misinformation runs the gamut, from discrediting vaccines with conspiracy theories to undermining the threat of the novel coronavirus. Vishvas News has embraced fighting misinformation mayhem as a mission. The COVID-19 pandemic caused people to adapt to social distancing, quarantines and financial losses. But, the awareness efforts and fact checking misinformation did not stop. At Vishvas News, we continue to provide hands-on training and experience to enable communities to combat the widespread distribution of harmful, misleading, and false information through measures to tackle it. When Covid-19 cases started to decline in 2022, Vishvas News shifted training from online to hybrid mode. Vishvas News also trained fellows for 10 leading media houses of India. Through our Sach ke Sathi (SKS) programme, we reached 50,000 people (our champs) directly and our overall reach is 58 million. Not only this, we have conducted sessions for senior and mid-level military officers and officers of central police organisations.
Sach Ke Sathi: Assembly Election 2022
The Sach ke Sathi: Assembly elections (For Healthy Voters) was conducted by Vishvas News from Feb 15 to Mar 2. A media literacy campaign to sensitise the general public about the trends and propaganda related to elections and COVID-19, the programme was conducted in the form of webinars with the help of a team of certified & trained fact-checkers, influencers, election commissioners, fact checkers, coordinators, presenters and support team. Election officials and medical experts answered queries posed by the participants.
The webinars were conducted in five cities across two states. We reached 19.9 million people through this, raising SKS's overall reach to 58 million.
Sach ke Sathi: Factsup
Under the ongoing Sach Ke Sathi FactsUp training and media literacy programme, Team Vishvas News is connecting with audiences across 10 Indian states and is training citizens to identify fake news, mis/disinformation and spread awareness about the perils of falsehoods among their peers. Our goal is to make people aware of the misinformation they come across on a daily basis by connecting them to the Vishvas Tipline number +91 9599299372. The tipline offers users a way to connect with fact checkers, get access to debunked misinformation doing the rounds, as well as get the misinformation they received checked and debunked by a team of fact checkers. The programme started in October 2022 and will conclude in March 2023.
Fact Checking and News Verification Fellowship
Vishvas News trained 20 journalists from the media fraternity, including The Indian Express, The Hindu, Hindustan Times, Asianet news, Manorama Online, Lokmat, Deccan Herald, Press Trust of India, Prajavani, and Mathrubhumi under its fact-checking fellowship programme in association with Meta and Internet and Mobile Association of India (IAMAI).
Training of Central Reserve Police Force (CRPF) on fact checking
Vishvas News conducted two training sessions for the officers of CRPF. The first session was conducted offline at the campus of Indian Institute of Mass Communication (IIMC) on June 2, 2022 in which trainers from Vishvas News conducted two-hours training on fact checking. The second session was conducted online in July 2022.
Training of Indian Army on fact checking
Vishvas News delivered a session on Fact Checking for the Senior Officers of Indian Army on Nov 21, 2022 at Indian Institute of Mass Communication (IIMC).
Presented our work at Global Fact 9, Norway
Team Vishvas News presented its Sach Ke Sathi (Truth Warriors) programme Yes for Vaccine at Global Fact 9, the annual international fact-checking conference of the IFCN in Norway conducted in partnership with the Norwegian fact-checking organisation Faktisk.no; OsloMET University; the journalism training institute Institutt for Journalistikk and the foundation for investigative journalism, SKUP.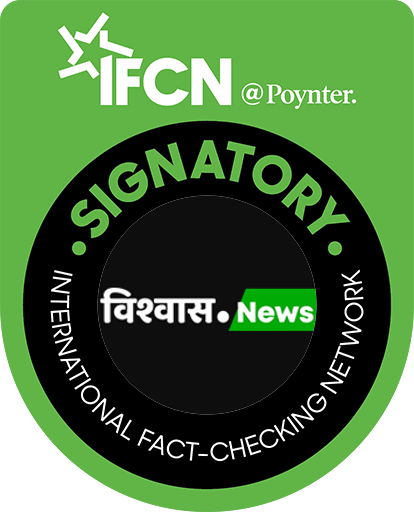 Know the truth! If you have any doubts about any information or a rumor, do let us know!
Knowing the truth is your right. If you feel any information is doubtful and it can impact the society or nation, send it to us by any of the sources mentioned below.
Tags
Next Article