Fact Check: 7-month-old video of Sikhs distributing food at railway station shared as recent one
Vishvas news investigated and found the claim to be false. The video was shot in November last year and has no relation with migrants during lockdown.
By

Vishvas News

Updated: May 27, 2020
New Delhi (Vishvas News): Many pictures and videos are going viral on social media relating it to migrants who are traveling during the lockdown. In the viral video, some Sikhs can be seen distributing food to people from outside the train. It has been claimed that Sikhs are distributing food to hungry migrants sitting in the train. Vishvas News investigated and found that the viral claim is false. This video is getting viral from November 2019, it has nothing to do with the migrants.
Claim
A video shared on social media shows some Sikhs distributing food to people in the train. The caption reads: "One of the best videos you will see today, which shows humanity exists in these difficult times. Sikhs in rural India run after a moving train filled with starving migrants to give them food." The archived version of the post can be checked here.
Investigation
In order to verify the video, we observed hints that were visible while looking at the video carefully. We could see the name 'Mahalam' written on the board at the railway station. Mahalam is located near Firozpur, Punjab.
We searched keywords such as "Sikh langar moving train" on google. From the search result, we found that the video is old and not the recent one. We found the same video on Twitter uploaded on November 12, 2019. This video was uploaded from a Twitter handle of a user named Hatinder Singh. The description with the video read: "Langar Started By First Sikh Guru Sri Guru Nanak Devji Has Made This Religion Unique Serving Langar To The Hungry Beyond His Caste & Religion Is A Duty Towards Humanity. In The Video We Can See Sikhs Youth Running Behind Moving Train To Give Langar Food To The Hungry Passengers."
This was clear that the video is old and not related to the recent lockdown.
We further investigated and found an article on the website of Navbharat Times. The article dated November 14, 2019 was titled: 'दुनिया में सिखों जैसी सेवा कोई नहीं कर सकता' (English translation: Nobody in the world can do service as Sikhs do).
As per this article, the former BJP MLA Anil Sharma uploaded a video on November 12, on Guru Nanak Jayanti, in which Sikhs are distributing langars with a moving train. This video is becoming quite viral and millions of people have watched it till now.
The report on this can be read in Patrika and Navbharat times.
Vishvas News spoke to the Firozpur Incharge of Punjabi Jagran Mr. Parminder Singh. He said: "This is not the recent video. It is an old video. If we see the video carefully we can see that people are wearing winter-wears. This video is of Guru Nanak Dev ji's 550th anniversary."
We also spoke to the Superintendent of Mahalam Railway Station, Mr. Krishan Lal. He said: "This is an old video. It is of that time when people were going to Sultanpur Lodhi at the time of Guru Nanak Dev Ji's anniversary. This video was shot outside station premises."
We also performed the social scanning of the user who shared the viral post. The twitter user Asjad Nazir has a verified twitter account and he is a writer by profession.
Story written by Urvashi Kapoor
Conclusion: Vishvas news investigated and found the claim to be false. The video was shot in November last year and has no relation with migrants during lockdown.
Claim Review :

Sikhs distributing food at railway station to migrants

Claimed By :

Twitter User- Asjad Nazir

Fact Check :

False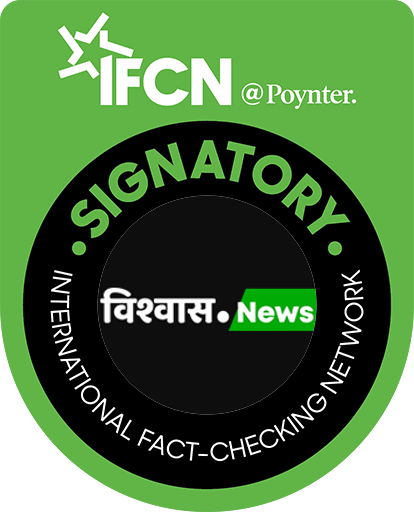 Know the truth! If you have any doubts about any information or a rumor, do let us know!
Knowing the truth is your right. If you feel any information is doubtful and it can impact the society or nation, send it to us by any of the sources mentioned below.
Tags
Next Article