Fact Check: This roundabout with the statue of Mace, Bow, and Arow is in Gujarat, not Ayodhya
This roundabout is in Vadodara in Gujarat, not Ayodhya. Viral claim is False.
By

Vishvas News

Updated: December 27, 2021
New Delhi (Vishvas News). A picture is going viral on social media, in which a mace and arrow-bow statue can be seen at a roundabout. Users on the Internet are sharing this picture with the claim that this is a new roundabout built in Ayodhya. When Vishvas News checked the viral post, the claim turned out to be false. This roundabout is in Vadodara in Gujarat, not Ayodhya.
What is going viral
Facebook page "We Support Hindutva" posted a picture on December 21. In this, the statue of a mace and arrow-bow can be seen in the middle of a roundabout. The Description read:'Translated: Jai Shri Ram Happy to see the divine intersection built in Ayodhya..'
View the archived version of the post here.
Investigation
Vishvas News first used Google reverse image search to find the location of this picture. We found this image in many places. A Facebook page uploaded this image on June 11, 2020, describing it as the intersection of Harni Road in Vadodara.
On this basis, Vishvas News searched by typing related keywords in Google. We got the viral picture from another angle on a website with the description that it is on Vadodara Airport Road.
Vishvas News also took the help of Google Maps to check this location. On searching with related keywords and Google Maps Street View we found this roundabout on the airport road of Vadodara. The roundabout in the viral picture can be seen here.
Vishvas News contacted Dainik Jagran Ayodhya Bureau Chief Rama Sharan Awasthi. Terming this viral post as fake, he said that this roundabout is not in Ayodhya.
Conclusion: This roundabout is in Vadodara in Gujarat, not Ayodhya. Viral claim is False.
Claim Review :

जय श्री राम अयोध्‍या में निर्मित दिव्‍य चौराहा देखकर खुशी हुई तो एक बार जय श्री राम का जयकारा लगाए।

Claimed By :

We support hindutva

Fact Check :

False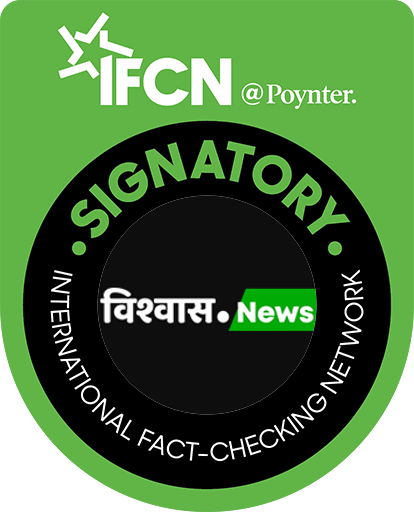 Know the truth! If you have any doubts about any information or a rumor, do let us know!
Knowing the truth is your right. If you feel any information is doubtful and it can impact the society or nation, send it to us by any of the sources mentioned below.
Tags
Read More
Next Article