Fact Check: Rahul Gandhi did not turn his back on the journalist's question, edited video viral
Vishvas News in its investigation found that the viral video is edited.
By

Vishvas News

Updated: September 9, 2022
New Delhi (Vishvas News). A 14-second video has gone viral on social media where it is being claimed that when journalists asked Congress leader Rahul Gandhi to show a pamphlet from the back side, he turned his own back. Vishvas News in its investigation found that the viral video is edited.
What's in the viral post
Facebook user We Support Jai Ram Thakur (archive link) posted the video on September 8 and wrote, Ghulam Chamchain dreams of becoming PM. When the journalist asked to show the poster from behind too, then your Rahul ji showed them his own backside."
Twitter user Arpita Shaivya (archive link) also tweeted the viral video and made the same claim.
Investigation
A closer look at the viral video reveals that it is from a press conference, in which Rahul Gandhi and Randeep Surjewala are showing a booklet. We extracted its keyframe with Google's InVid tool. We searched these keyframes with Yandex reverse image and found this photo on the Twitter account of Youth Congress President Srinivas Biwi (archive link). It was tweeted on 19 January 2021. It was about Agri laws.
ANI published a story about this press conference on 19 January 2021. According to this, Rahul Gandhi released a booklet on the Agriculture Act in the party office in Delhi.
On further searching, we found the full video of the press conference on the YouTube channel of the Indian National Congress.
The press conference was about launching a booklet on agriculture laws. In this video, viral clip can be seen from 2.20 minutes to 2.33 minutes. In this, Rahul Gandhi is saying, 'See, how fair are we people. Show here also, show there also.' After this he said, 'BJP would have done it like this.' And he turns around. In the viral video, the sentence of BJP has been truncated.
For more information, we contacted UP Congress spokesperson Abhimanyu Tyagi and sent him the viral video. He says, 'The video is edited. Last year, when there was outrage among the people about the Agriculture Act, Congress released a booklet on it. Opposition parties are spreading propaganda by posting edited videos and photos.
We scanned the Facebook page 'We Support Jai Ram Thakur' that shared the edited video. About 1 lakh 11 thousand people follow this page made on November 5, 2016. It is inspired by a political ideology.
Conclusion: Vishvas News in its investigation found that the viral video is edited.
Claim Review :

When Rahul Gandhi was asked by the journalist to show the poster from behind, he showed his back.

Claimed By :

FB User- We Support Jai Ram Thakur

Fact Check :

False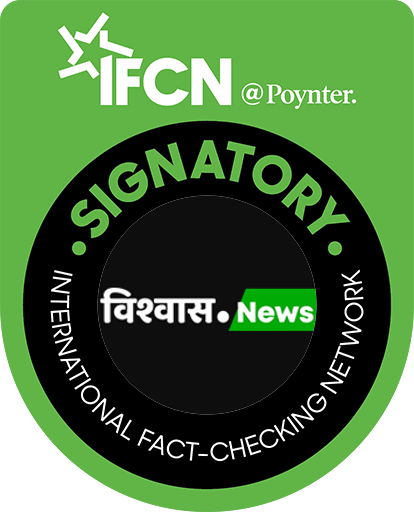 Know the truth! If you have any doubts about any information or a rumor, do let us know!
Knowing the truth is your right. If you feel any information is doubtful and it can impact the society or nation, send it to us by any of the sources mentioned below.
Tags
Next Article