Fact Check: The man these women were beating was not any MLA, he was a union leader
By

Vishvas News

Updated: September 30, 2019
New Delhi (Team Vishvas) A video is going viral on social media in which 2 women can be seen attacking a man. In the video, a woman can be seen hitting a man with slippers. The post claims that the person who was beaten up is a BJP MLA. We found in our investigation that this claim is false. The person seen in the video is Shankar Singh, President of Himachal Pradesh Transport Mazdoor Sangh.
CLAIM
In the viral video, a woman garlands a man and then holds his hands, meanwhile another woman from behind starts hitting him with slippers. The description with the video reads, "What a great welcome to the BJP MLA by this woman. This is what every woman should do in today's era #HowdyModi."
FACT CHECK
We watched this video properly to investigate the matter. In the video's background, a banner can be seen which has 'Himachal Transport Workers Union' and 2018 written on it.
We searched the key frames of this video on Google reverse image with the keywords 'Himachal Road Transport + Women beat man'. We got this news on TalentedIndia News' verified YouTube channel. The video description read, "The labour union leader of Himachal Pradesh faced the shameful situation when a woman started beating him up publically. In fact, the matter is from Himachal Pradesh, where the State President of Transport Labour Union Shankar singh Thakur had reached Hamirpur to participate in a meeting. Two female trainee conductor first reached the stage to present garland to the leader and later started beating him with slippers. "The video was uploaded on Jul 5, 2018.
We also got news related to this incident on Dainik Jagran's website. According to this news report filed on 28 June 2018, "Two trainee women operators were discharged from the job for attacking Himachal Pradesh Transport Mazdoor Union president Shankar Singh with slippers."
For more clarification, the in-charge of Jagran's Hamirpur bureau Ranveer Thakur spoke to Shankar Singh Thakur. He told him that the man present in the said video is him. This incident happened in June last year. He is the state president of Transport Mazdoor Union (Bharatiya Mazdoor Sangh)."
This post was shared by a Facebook user named Vinay Pandey. He has a total of 11,006 Facebook followers.
Conclusion: In our investigation, we found this claim to be false. The man in the video is Shankar Singh, president of Himachal Pradesh Transport Mazdoor Sangh and he is not a BJP MLA.
Claim Review :

What a great welcome to the BJP MLA by this woman. This is what every woman should do in today's era

Claimed By :

भाई जयकान्त जी

Fact Check :

False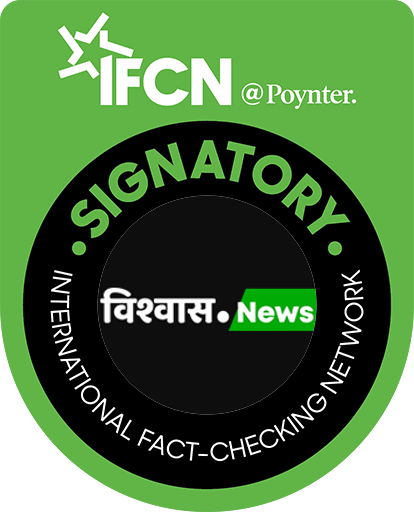 Know the truth! If you have any doubts about any information or a rumor, do let us know!
Knowing the truth is your right. If you feel any information is doubtful and it can impact the society or nation, send it to us by any of the sources mentioned below.
Tags
Read More
Next Article